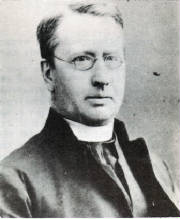 In 1871 a smallpox and cholera epidemic broke out. The area of Liverpool was particularly affected and the parish priest of Bootle, Fr Edward Powell (left), had to apply to Notre Dame teacher training college for a new teacher in his school. It had none to spare, but recommended the sister of one of its past students who had an amazing influence on children. This was Teresa. She leapt at the chance of going to Bootle, heroically conscious of the health risk, and stayed for over a year. She was able to become a daily Communicant (uncommon in those days). Fr Powell saw that she was an excellent catechist and encouraged her to acquire a teaching certificate which she was very promptly awarded.
In 1872 she went to the village school in Orrell and then to St Mary's, Wigan for three years. A colleague describes her:
"She appeared about thirty years of age (though I have since learnt that she was much younger than she looked). She was about five foot two inches in height, her body seemed much emaciated though her face was not too thin. She had what people here call a wizen face, i.e.,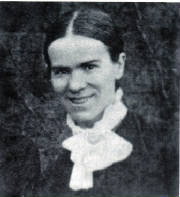 shrivelled and sallow. Her hair was dark, eyes also dark, small, very quick and bright, her general expression very pleasing; in conversation she was animated, witty and humorous. Her movements were quick and sprightly and she seemed always on the alert and entered heart and soul into everything she took in hand. Her dress was often odd. She never cared whether her clothes were in taste or ill-fitting, in fact never seemed to have a new costume and as she had literally no regard for money I came to the conclusion that her clothes were simply her sisters' cast off clothing, and that she squandered her salary in buying books and objects of piety for others and in charity, so that she never had the wherewithal to buy a decent outfit. Such was Miss Higginson as I remember her. . . . From the first day I met her until we parted I could never find fault with her in any way. She was never cross-looking or out of humour and her pupils idolised her. She seemed to live in the presence of God and always introduced some religious topic into the conversation without boring one with an overdose of piety, or seeming to preach."
It was about this time that people noticed strange and supernatural things about her. She would fall into periods of apparent unconsciousness: ecstasies. She seemed to survive on the Blessed Sacrament alone for up to three days at a time. A fellow teacher who became a very supportive friend, Susan Ryland, recorded some of the occurrences that took place.
"At the bidding of Father Wells she cured a child of some chest disease. She used common Lard (as an excuse I suppose). The child's mother asked me afterwards for some of the ointment. Teresa said to me: 'What am I to do? It is only common Lard.'
One night she came from Church where she had been doing the altar, etc., bringing with her a duster or so to wash. There was no common soap in the house. I suppose we had forgotten it. She asked me had we nothing but the good soap and when I said no, she remarked it was against holy poverty to use that for dusters. I turned away but happened to turn back just in time to see a pound of common soap on the table and Teresa stretching out her hand to take it, as it was nearer to where I was standing than to her. I am not sure but I think she laid down the money necessary to pay for it. I am quite certain there was no soap on the table when I turned away.
Another time I had forgotten, or did not notice, that there was no wood in the house. In the morning I wanted to light the fire. Teresa was in bed. I went in to her and said: 'We have no wood and I want to light the fire.' She said: 'There is plenty in the sacristy.' But I said: 'The Church is not open yet.' 'Very well,' she said, 'ask St Joseph for some.' I said: 'You ask him, he won't do it for me.' Then she said: 'Have you been to such a cupboard?' I said: 'Yes, and there is none there.' 'Well, go and look again.' I went and found a quantity of nice pieces not like the wood we bought.
The key of her school was once lost. We kept it in the school-house, and when she wanted to enter it was not to be found. I searched the house for it, so did she. She then went up to the parlour and I think knelt by the table. Presently she came out with the key in her hand and looking very pale. I said to her: 'What on earth is the matter with you? You look frightened to death.' (It was unusual to see her like that.) 'Yes', she said, 'I was frightened because I saw nothing but a white hand put the key down.'
There are many other such stories, including anecdotes from her brother and sisters.
She began to suffer mystically during Lent. Fr Thomas Wells, her parish priest, was a holy and zealous man and he took her seriously. He contacted a moral theology lecturer at Ushaw College for advice and consequently began to impose trials and humiliations to test her.
Just as with the Curé of Ars and Padre Pio, the devil became very active, shaking furniture and howling at night or mimicking the crying of children in the locked-up school, throwing objects or even spitting things on Teresa. She revealed later that she was often put through strong temptations against various virtues.
On the Friday before Holy Week 1874, in the midst of terrible suffering, she was endowed with the stigmata. Several of her friends and those who nursed her testify to having seen wounds on her hands and feet and thorn-marks on her forehead. It all troubled her humility. She repeatedly begged Jesus to remove the marks but increase the pain. During her last illness her nurse saw no wounds.
Her spiritual director, Fr Powell, the only one to whom she revealed her soul at this time, recognised the suffering that was to prepare her for the mystical espousal. According to some letters she wrote to him, Our Lord gave her this grace on the feast of the Sacred Heart 1879. The Espousal or Spiritual Betrothal is a stage in the ascent towards union with God recognised by St Teresa of Avila and St John of the Cross.
It is now believed that it was in 1874 or 1875, that she first experienced Christ's desire that his Sacred Head be worshipped as the Seat of Divine Wisdom. Two letters from Margaret Ashworth, nee Woodward, (a teacher friend) in 1933 recount how she believed she was the first to hear Teresa speak of our Lord's desire for the devotion - as she came out of church on Good Friday.
In July 1875, her friend and support Susan Ryland left Wigan and a few years later entered the Sisters of Charity. Fr Wells was continuing to inflict trials on Teresa, but (as in the lives of other mystics) he seemed to go too far. Teresa became ill. She resigned in Christmas 1875 and her parents made her return home to recover her health. She was sent an exemplary testimonial from Fr Wells.
Once back in full health, she applied to a few other schools and settled in a Jesuit mission in Sabden, near Clitheroe. It was very remote, the salary was low and the only lodgings were with a non-Catholic. She soon settled in, however, and began to make her mark on the school. She got to know some of the Mill girls at Clitheroe, encouraging them to go to daily Mass and Holy Communion. A member of a family with whom she used to stay wrote this description of her:
"My recollections of her are most vivid. She was sweet and gentle and quite homely, so much so that the younger members of the family usually found their way to her and they would crowd around her while she told them stories or sang hymns, sometimes amusing the babies by making her Child of Mary medal whistle. Her attitude at prayer specially struck me: she knelt motionless, her eyes fixed on the tabernacle. If ever I chanced to go to Mass alone I invariably knelt where I could see her instead of going to our own bench in Church. On one occasion she got permission to take myself and my eldest cousin to Mass at Sabden. She entertained us the whole day showing us her school, etc. I well remember the caretaker of the school chapel, a woman, saying she spent the whole of every Thursday night before the Blessed Sacrament and that she had seen drops of blood upon her forehead on the Friday. The children, too she said, saw it, and had become quite used to the sight."
Unfortunately for her there was no daily Mass in Sabden and Teresa experienced extraordinary deprivation upon not being able to receive daily Communion. Our Lord made supernatural provision for her and she began to receive mystical Communions, sometimes three or four times a day. This occurrence was witnessed by several people throughout her life; they would suddenly become aware of a host materialising out of the air and alighting on her tongue.
In 1879 her health again broke down and she had to return home. Again the Priest's testimony was excellent:
"I have much pleasure in saying that Miss Higginson, during the eighteen months she had charge of our school at Sabden, gave every satisfaction, both to the children and to their parents. She was most devoted to her work and has a special talent for attracting children to her school. She left Sabden on account of illness."
After regaining her health, she soon started to yearn for work once more, and to be able to get to daily Mass. She contacted Fr Powell for his advice and he in return requested her, under obedience, to write out for him the history of her hidden interior life. In all about 125 letters were written, from June 1879 to 1881. It was also about this time that Jesus began to show her a beautiful and very faithful soul living in her parish, 'one of the centrepieces of his Sacred Heart'. She seem to feel both humbled and consoled by it. Both Fr Powell and her later director Fr Snow realised that this soul was in fact Teresa herself!
In autumn of 1879, Fr Powell offered her a post in his own school of St Alexander's, Bootle. She began work on 1st October and lodged with a widow, Mrs Nicholson, and her 14 year-old daughter Ellen, above a shop. Ellen noticed several strange things, but because she had only recently become a Catholic, she thought they were normal! Teresa's contemporaries describe her as impressively calm, with a retiring disposition, but also a great strength of will and self-control. She was never excited or over-emotional, but utterly sane. She suffered from strange attacks of weakness and would often be found prostrate in the mornings. After receiving Holy Communion, she regained her strength. Despite her best efforts, her mystical wounds were noticed and upon returning home for the summer holidays, her family became alarmed at her 'fainting fits' (ecstasies). In her letters to Fr Powell, Teresa saw these things as means for increasing her humility.
In 1883, Mrs Nicholson died and Teresa went to lodge in Ariel Street with some fellow teachers. They became very aware of the devil's attacks. They would be woken up at night by violent crashes, unearthly shrieks, laughing and other occurrences. Fr Powell was quite aware of the situation and told them not to be afraid as the devil could do no harm to them.
Inevitably, Teresa began to evoke interest. The Church authorities were approached. Various priests were brought into contact with Fr Powell concerning her. Monsignor Weld studied the letters between her and Fr Powell and declared himself impressed with her:
"If all the information I have received is correct… she presents a case of extraordinary love of God and zeal for the salvation of souls, profound humility, unhesitating obedience, love of mortification and suffering only to be paralleled by some of the greatest saints. This seems to date from her infancy. If all this is true we should not be surprised if Our Lord bestowed upon her some of the favours which He usually bestows on such souls."